Julia Albain

No Title

No information
Julia Marie Albain is from Cincinnati, OH. Her father refered to her having "an unbelievable need to talk". This led her to loving theater at a very young age. In high school, she spent hours working in the theater, whether it was rehearsals or actual performances, or raising money for her schools theater, and building sets on the weekends. She then went on to train with local theater artists in Cincinnati and participated in the Cincinnati Cappie Awards. She also earned her position of president of her school theater group.
Julia was accepted into the University of Michigan's BFA program to study theater. In addition to performing in various University Main Stage Productions and Senior Theses, she became a part of Basement Arts, a student-run organization, where she served as a board of directors, directed 2 shows, and performed in various productions.
She is also the founder of Transit-Five Productions, a small theatre company in Cincinnati.
Today, she continues to volunteer in theater camps and supporting in the power of the arts of the youth.
She played Vincent Crabbe in both A Very Potter Musical and A Very Potter Sequel, adding in as Percy Weasley and Candy Lady in A Very Potter Senior Year, and Specs/Ensemble in Starship. She also played Vicki Vale, Evil Mother Goose, Martha Wayne, and Zatanna most recently in Holy Musical B@man!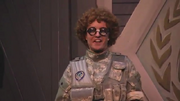 She is an amazing Starkid and even though she does not appear on the tours she is there said to be baby sitting the other Starkids.