Starship is the fourth original online musical from StarKid Productions. Based on a concept created by Joseph Walker and Darren Criss and written by Matt Lang, Nick Lang, Brian Holden and Joseph Walker, Starship is a sci-fi musical comedy about an alien named Bug who wants to be a Starship Ranger. When Rangers land on his planet (inhabited solely by a race of giant bugs), Bug sets out on an epic and perilous journey to save the universe and finds love along the way. The cast says that Starship is a mixture of "Avenue Q and the Little Mermaid", with Joey Richter saying he is "the little mermaid."
The show was directed by Matt Lang with music and lyrics by Darren Criss, set design by Corey Lubowich, two-dimensional puppets designed by Nick Lang and three-dimensional puppets designed by Russ Walko, Artie Esposito, Carrie Kiker and Brett O'Quinn.
The musical was performed February 11th-23rd, 2011 at the Hoover-Leppen Theatre in Chicago. Starship was then released on YouTube on April 30th, 2011 with simultaneous screenings at movie theaters in California, New York and Illinois.
The soundtrack was released on iTunes and Amazon.com the same day the show was released on YouTube. The musical's cast recording debuted at No. 134 on the Billboard 200 and No. 1 for Top Cast Albums.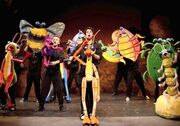 In Alphabetized Order (by last name)
(*) Bold names denote the actor's onstage Starkid debut
The opening video sequence in Starship includes cameos from several other members of StarKid, including:
Development
Edit
Production on Starship began before Darren Criss landed his role on Glee. The original concept for the show came from Joseph Walker, who suggested to Criss a musical parody of Starship Troopers. Criss then expanded the concept, referring to it as "The Little Mermaid meets Aliens". Darren Criss wrote all the music for Starship while he was in L.A. filming Glee.
Joey Richter was in his last semester at the University of Michigan in Ann Arbor and had to commute to Chicago to rehearse and perform as Bug. Joey spent four days per week in Chicago during the production. StarKid made a deal with the school so he could take so much time away from class and still graduate on time, which he did on the day of the YouTube release.
Recording
Edit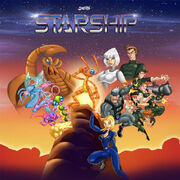 Main article: Starship (Original Soundtrack)
A cast recording of the production was released on April 30th, 2011 alongside the YouTube premiere of the musical through iTunes and Amazon.com. All of the songs featured on stage are present on the recording. The album debuted at No. 134 on the Billboard 200 and No. 1 for Top Cast Albums. The album also reached No. 4 on iTunes.
Critical reception
Edit
Full of "infectuous charm" - Time Out Chicago
"very funny" - Chicago Tribune
"big and bold" - LA Splash
Starship won the Best New Work award in the 2011 BroadwayWorld Chicago Awards.
Community content is available under
CC-BY-SA
unless otherwise noted.